County of Los Angeles
Department of Public Health
Environmental Health
5050 Commerce Drive
Baldwin Park, CA 91706
(888) 700-9995



Adobe Reader
Note: PDF documents on this site were created using Adobe Acrobat 5.0 or later. If you are using an earlier version of Adobe Acrobat Reader (4.x or less), document functionality may be reduced. Please Click Here
Plan Check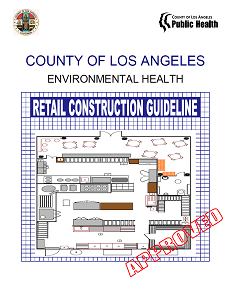 This program ensures that new and remodeled food facilities in Los Angeles County comply with California State laws and local ordinances relating to construction, building materials, equipment, equipment installation, and ventilation systems. Please note that Los Angeles County Environmental Health does not provide services in the cities of Pasadena, Long Beach, and Vernon.
---
Responsibilities and Services
Provide consultation to architects, food facility designers, engineers, equipment installers and contractors
Consult with the food service industry concerning technical problems relating to equipment and materials
Participate as a member on the Southern California Plan Check Committee to provide uniform interpretation of the California Health and Safety Code requirements for food facilities
Review, approve, or reject plans relating to construction, remodeling, or conversion of food facilities
Evaluate and approve or reject, equipment and materials in accordance with State laws and Environmental Health equipment performance evaluation policies
Our Offices
Region A Offices
Office
Address
Telephone & Fax
Program Supervisor
Headquarters
5050 Commerce Drive,
Baldwin Park, CA 91706-1423

P:(626) 430-5560

F:(626) 813-1444

Swati Bhatt
P:(626) 430-5560

Marco Espinoza
P:(626) 430-5561

East Los Angeles
4801 E. 3rd Street
Los Angeles, CA 90022

P:(323) 881-7075

F:(323) 264-7626

South Bay
122 W 8th Street, Room 20-A
San Pedro, CA 90731

P:(310) 519-6081

F:(310) 514-0170
Region B Offices
Office
Address
Telephone & Fax
Program Supervisor
Metroplex
3530 Wilshire Blvd., 9th Floor
Los Angeles, CA 90010-2313

P:(213) 351-7352

F:(213) 351-2789

Maria Kharadjian
P:(626) 430-5503

West
6101 W. Centinela Ave., Suite 300
Culver City, CA 90230

P:(310) 410-3400

West Valley
14500 Roscoe Blvd., 5th Floor
Panorama City, CA 91401

P:(818) 672-2293

F:(818) 672-2101

Antelope Valley
335-A East Ave. K-6
Lancaster, CA 93534

P:(661) 723-4551

F:(661) 948-9354
Retail Plan Check
Wholesale Plan Check
Mobile Food Facility Plan Check
Cottage Food Class A
Please visit Los Angeles County Office of the Assessor to access property information including parcel numbers.
---
Back to Environmental Health's Home Page